Colorado Space and Technology Events Calendar
Sponsored by:



Aerospace Happy Hour!
January 25
@
5:30 pm
–
7:30 pm
MST
Happy 2023! We hope that with this new year, you will make many new connections. As such, we are co-hosting another Aerospace Happy Hour with Grant Thornton on Wednesday, January 25th at Satire Brewing Company – 13801 Grant Street; Unit 572, Thornton, CO 80023 from 5:30 – 7:30 PM, and you are invited!  Connect with other aerospace industry professionals in a relaxed atmosphere. Network, meet new people, and talk about ways to work together.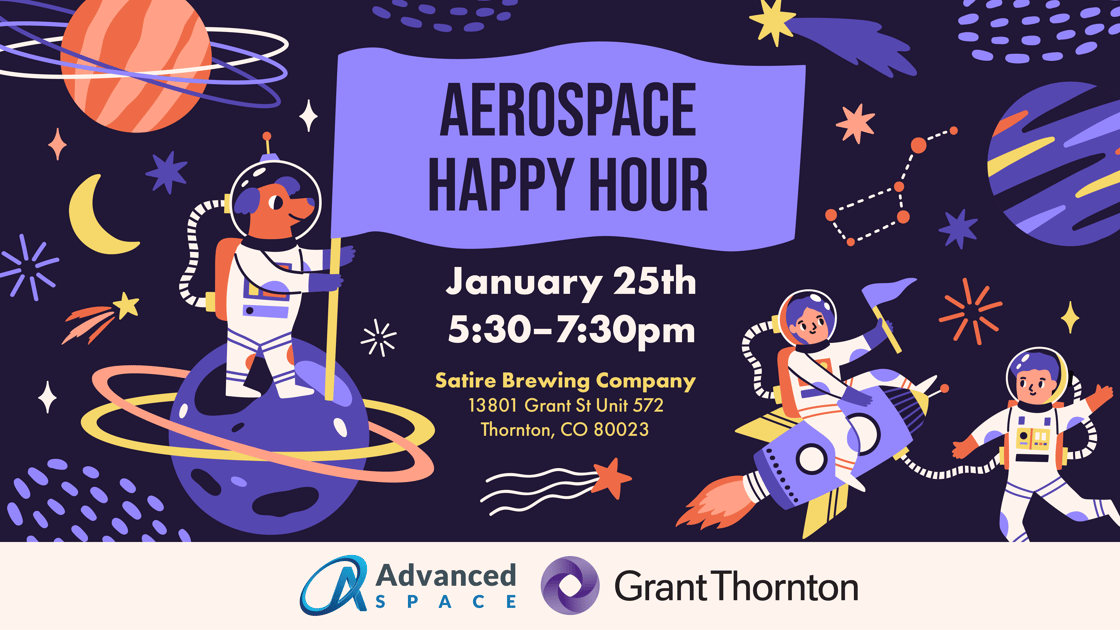 Guests are more than welcome so please feel free to forward this invitation along to anyone else you think would be interested in coming along. Others can also join the event mailing list by providing their email here. RSVP is not required but is greatly appreciated and highly encouraged so we can prepare the staff. Please RSVP to

[email protected]

with your intent to attend or not and let us know if you plan to bring others and how many. Additionally, if you would like to receive periodic updates on CAPSTONE our CubeSat mission currently operating at the Moon, info on papers we're publishing/presenting, or just want to hear about the variety of things we are working on, we are starting a news bulletin to collect all our news for easy quarterly summaries – sign up here to join the list. We want to give special thanks to our cohosts for this happy hour: Grant Thornton Grant Thornton's Government Contractor Solutions supports contractors of all sizes throughout the entire lifecycle of a government contract. Services include pricing proposal, merger & acquisition, tax, external audit, technology, and business transformation assistance. We help government contractors improve their operations, be more responsive, and compliant to their government customers We hope to see you there!

Food and beverages will be available for purchase Upcoming Aerospace Events The Smalls organization captures great ways to network and support your company. Listen to a podcast or check out their events calendar as they track activities across Colorado, the Rocky Mountain Region, and the U.S. The National Defense Industrial Association (NDIA) also has a great calendar for events. The Rocky Mountain Chapter promotes a strong, diverse Colorado security ecosystem through education, awareness, and advocacy.




Advanced Space
(720) 545-9191
info@advancedspace.com