Colorado Space and Technology Events Calendar

CSBR Aerospace Business Development Road Trip!!!
August 22
@
8:00 am
–
August 23
@
5:00 pm
MDT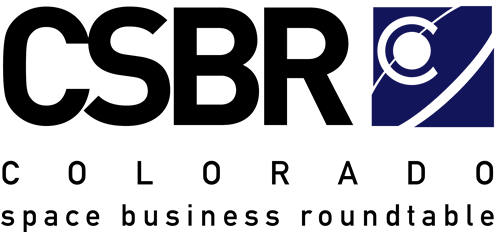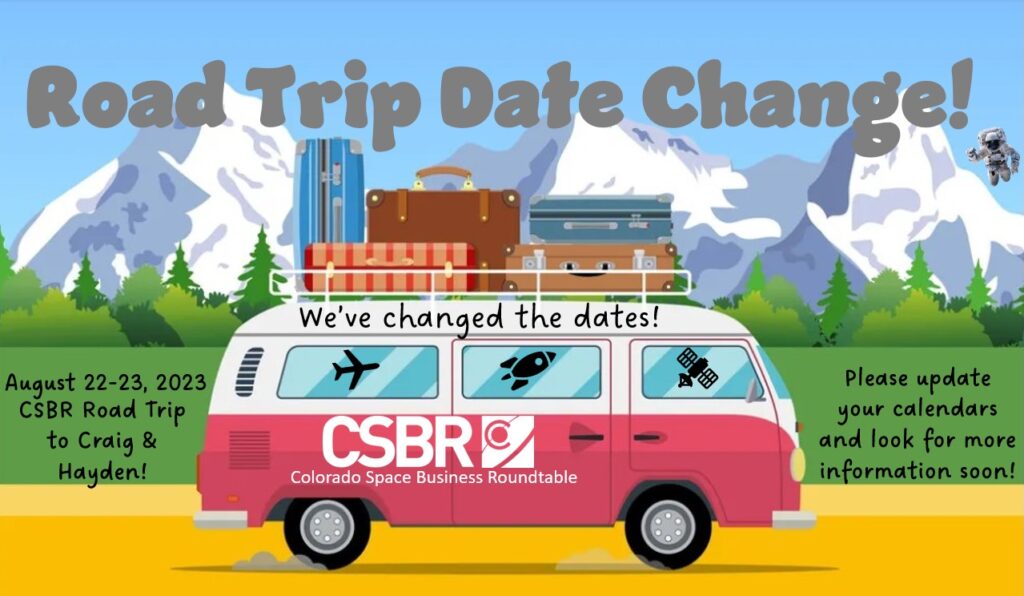 RSVP now for the CSBR Road Tripto Craig and Hayden!
CSBR members please consider joining us for the Road Trip August 22-23 to Northwest Colorado; see the invitation below for information and registration. One of the stated purposes of road trips is to learn more about our state and businesses in all four corners as well as to discuss with businesses in all parts of the state how they might consider getting into the aerospace supply chain and to engage with students across the state. The three goals of road trips are: 1. To promote Colorado Aerospace – we get to talk about how all parts of the state benefit from Colorado's aerospace industry.2. To seek potential suppliers and subcontractors3. To engage educators and students in aerospace STEM activities and opportunities.
Senator Bennet has been invited to participate in the tours and his staff has indicated that there is a good possibility he will join us for part of the event.
We look forward to seeing you on the trip!
When: AUGUST 22-23, 2023What: Mine Tour – Redevelopment Project.Who should attend:· Professionals looking for unique business expansion· Industry leaders looking for burgeoning opportunities· Legislators supportive of re-imagining mining facilitiesKey Points:· 700+ motivated, skilled workforce· 85k sq. ft. office and fabrication space· 11.2-acre site· Regulatory and environmental permits in place· Numerous incentives· Suitable for Aviation, Aerospace, New Energy Tech, and more.
Join the Colorado Space Business Roundtable Road Trip to learn about abundant business opportunities in NW Colorado. Visit industrial facilities to be available soon and hear about a workforce where work ethics meets rugged ambition. Those in the Great Northwest are pioneers looking to conquer future frontiers. Two million acres of pristine public lands and free-flowing rivers distinguish this unspoiled landscape. We look forward to showcasingFacilities ripe for new industry and expansionOur workforceA community ready and willing to collaborate with partners that fit in with this close-knit cultureForward-looking education programsJob training opportunities
More about the Trapper Industrial Park location

Is your company or a company you know looking for industrial space that is a rare, fully independent location on an 11,200-acre site with over 85 thousand sq. ft of modern office and industrial space? The Trapper location is sound abated from business, municipal and residential areas with dedicated utilities, explosion permitting, and uncontrolled airspace. Let's see if this location works for you! The Workforce700+ skilled workforce in placeOver half average 11+ years of experience and are under 44 yrs. oldMining and Manufacturing are within the top five employment sectors The FacilityDedicated 69 kV powerlinesKVA 345 and WAPA powerlines throughout the propertyDedicated natural gas lineNew potable water plant that includes water rightsHigh-speed connectivityFiber optic lines stubbed in for broadbandPermitted for explosive use without disruption to the communityClass G uncontrolled airspaceGated facilityNearly 50k sq. ft. of advanced fabrication capabilities, including overhead cranes, wash bays, computerized plasma cutting/welding, machining/lathe, and radiant in-floor heatOver 26k of administrative office space170,000-gallon gas and diesel tank farmMeteorological radio tower availableUnion Pacific rail spur less than one mile from the facilityLocal access to back-haul truckingEstablished long-haul trucking routesPaved access road and parking lotsCommercial and Airfreight access from two general aviation and one commercial airportServed by US Hwy 40 and Colorado State Highways 13 and 31
IncentivesUp to $6,500 per net new job in Moffat CountyFunding resources through the Colorado Strategic Fund Initiative may be availableWorkforce development resources, cash, and tax incentivesColorado Rural Jump-Start tax holiday programEnterprise Zone tax credits for new jobs, R&D, training, and investment tax creditsLocal government business tax incentivesOwner incentives may include purchase and lease options 

More information: Bonnie Petersen (970) 640-8181Click Here to RSVP!